Smiley Face Deluxe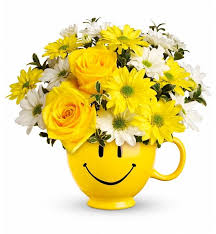 $38
Smiley Face Bouquet.
Bring a smile to their face with the Smiley Mug.  This bouquet is arranged in yellow and white flowers and is all around.  You can top off this bouquet with smiley face mylar. .
The Baldwin Greenhouse reserves the right for any substitutions to accomplish the same look and feel of the arrangement.
Contact Us
Baldwin Greenhouse
PO Box 402
520 Hwy 12
Baldwin, WI 54002